LEVI IS AN ENERGY AND MATERIAL-EFFICIENT SKI RESORT
Tourism in Lapland is founded on nature. This makes it absolutely vital to consider the environment in every travel-related development decision that is made in the area.
At Levi Ski Resort, our operations include year-round travel and activity services on the slopes, as well as various support services – all of it in a sustainable manner. Taking care of the environment is a natural part of everything we do and we carry our own responsibility of the wellbeing of our fell.
Other important environmental aspects are water consumption, fuels, waste management, reuse and recycling, as well as erosion. We continuously work to improve our operations in each of these areas to achieve an even greater level of environmental friendliness.
As a recognition to our systematic work to preserve the arctic nature, Levi Ski Resort's environmental system has been awarded with the international ISO 14001 environment certification in 2018 as the first ski resort in the Nordic countries.
In August 2020, Levi Ski Resort was granted the Sustainable Travel Finland -label.
OY LEVI SKI RESORT LTD – ENVIRONMENTAL POLICY
Considering environment and being a pioneer of the field are our strategic choices and objectives we constantly pursue. We respect and foster our arctic operational environment. We are committed to follow environmental legislation and regulations.
We are committed to protect the environment and acknowledge the major environmental factors in our operations: electricity, fuel and water consumption, waste management, reuse and recycling, and minimizing erosion. We have set goals for each environmental factor. We monitor our environmental performance and pursue set goals through our environmental program. The program is based on constant improvement. Goals are overseen and revised as part of company's strategic planning.
Environment is one of our company values. ISO 14001 standard is a guideline for our environmental work.
The consumption of electricity is a major cause of energy consumption in ski resorts.
Levi Ski Resort Oy uses 100% renewable Greene electricity. The storage snow we use reduces the need for snowmaking in the warm weather of the early season. We utilize the waste heat from compressors generated by snow removal by transferring it to the geothermal piping. In all our new sites, such as South Point, West Point and the new service hall on the south slopes, we use geothermal energy as a form of heating. The extensive snow system on the slopes of Levi is also even more efficient with automation. In terms of slope equipment, we have invested in energy-saving equipment. Our slope machinery is equipped with a SnowSat system that measures the depth of snow, which reduces fuel consumption and emissions by improving the anticipation of machine work. As snowmobiles, we use environmentally friendly four-stroke snowmobiles. With machine-specific monitoring, we look at fuel consumption in the use of vehicles and slope machines. The fuel consumption of the machinery has fallen by 30% in less than 10 years. We also train our staff in economical driving. We have minimized the energy demand for slope lighting with LED lights and light automation. We changed the opening hours of the slopes from 9:30 to 19:00, which gives half an hour of extra time in the morning and reduces the need for lighting by an hour in the evening. We have also done landscaping work to prevent erosion in the fell. Customers also have access to an electric car charging station in connection with the Zero Point building. Our challenging goal is to increase the efficiency of recycling and sorting together with waste management players. We have installed more than 30 waste sortin stations in the fell, which also encourage our customers to sort their waste on the slopes. Levi SKi Resort is involved in the low-carbon development project of Pallas-Yllästunturi National Park - Pallas-Yllästunturi TOBE low carbon - which started on 1 January 2019. The aim of the project is ISO 14069 verification.
On a longer timeline, investments into sustainability also reduce costs, in addition to positive environmental effects, for example when the amount of required energy and materials is minimised and the reuse of waste is maximised.
Our Management Team is committed to preserving the environment, and our environmental team works to ensure that our environmental system is adhered to in all of our operations.
We ask you to join us in our work for the environment and treat the beautiful Lappish nature with respect during your visit.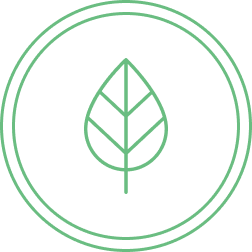 ISO 14001 CERTIFICATION
ISO 14001 standard is a strong sign of responsibility and the most recognized international standard for environmental management systems. Certification helps a company to achieve. and improve the desired results from the environmental system. The certification provides a framework through which an organization can deliver environmental performance improvement in line with its environmental policy commitments.
Benefits of ISO 14001 environmental system certification:
ISO 14001 certification helps to turn environmental issues into actions
Helps manage the environmental aspects of the life cycle of operations, products, and services
GET TO KNOW THE 8 MOST IMPORTANT AREAS OF OUR ENVIRONMENTAL WORK
We respect and work to preserve the arctic nature. Protecting the environment is an important part of our strategy and all of our operations. Our environmental work is guided by the International ISO 14001 Standard.